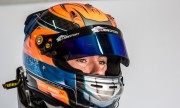 ESTORIL, PORTUGAL, April 1, 2016 (Newswire.com) - ​Raoul Owens goes third fastest during the final collective test ahead of the 2016 Renault Sport Trophy (RS01) in Estoril, finishing just +0.095s off the best time recorded by Kevin Korjus.
Having carried out a private test around the Portuguese circuit in February, Raoul's telemetry, video and feedback was put to good use by his team. Returning to the R-ace GP team, Toni Forné has been elected Raoul's co-driver of the #2 car for the 2016 season.
On Wednesday (Day 1), Raoul reacclimatised to the circuit in the morning – a former F1 venue with elevation change and close proximity walls that accentuate the tight and narrow sections of the circuit. Following a rain shower in the first half of the morning session, conditions were dry before the lunch break and Raoul ended the session P2 (+0.056s off the pace set by Markus Palttala of Marc VDS Racing.
On Thursday (Day 2), the dry and sunny forecast was jinxed by ever-changing weather systems passing over the Cascais hills from the coast and led to rain showers throughout the day. Teams therefore had to readjust their planned stints according to track conditions and, on the plus side, had the chance to test the new specification Michelin wet tyre in a non-competitive environment. A dry spell at the end of the day allowed teams to evaluate their set up on a new set of slicks, resulting in 4 different teams rounding out the Top 5. Raoul maximised his final stint of the day on new tyres and finished P3 behind Kevin Korjus and Dario Capitanio of the Oregon Team.
With the Top 4 times of the collective test split by a remarkable +0.1s, fans and RS01 participants of the series are undoubtedly in for a close battle for race wins and podium finishes!
Looking back on the past 2 days, Raoul said: "Overall it's been a good test. To be within a tenth of the pace is great! I felt comfortable in the car straight away on Wednesday. The rain wasn't ideal, but we learnt a lot about how the car and tyres respond in changing conditions. On Thursday, we went out and set some really good lap times compared to everyone else, so I'm happy."
Due to the weather, much of Raoul's programme this week revolved around gaining more experience with the tyres – an area Raoul is confident he has made forward progress: "It was good to test the new Michelin wet tyre and understand the performance difference to last season's tyre. I also felt I was able to perform a lot more on slicks this week compared to last week at Motorland. I feel ready now and it's going to be great to go racing again."
Round 1 of the Renault Sport Trophy gets underway at Motorland Aragon on 15-17 April.
Share: