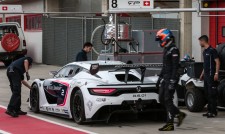 SPIELBERG, AUSTRIA, June 13, 2016 (Newswire.com) - Raoul Owens took part in a two-day private test at the Red Bull Ring on 10-11 June, finishing P2 in class during the second day of running and ever changing weather conditions.
Without prior experience around the highly technical Austrian circuit for both team and driver, Raoul knew this opportunity would be valuable in preparing for the next round of the Renault Sport Trophy season at the same venue in mid July. The Briton was the only driver to drive at the Red Bull Ring for the French team, R-ace GP, while Team Marc VDS and the Oregon Team brought a number of their drivers to assist with the performance and balance of the RS01.
Speaking about the test, Raoul said "despite its simple layout, it's a very technical circuit with not many overtaking opportunities. Qualifying here is going to be really really important! I watched the DTM qualifying from the Red Bull Ring and the Top 10 were barely split by a tenth of a second."
"The first day of the test was OK and it was our first time round the track. I was on my own with the team, so we didn't have as many resources to set the car up as quickly as some of the other teams, but yesterday we made changes to the car which helped a lot. Yesterday was a better day of performance – especially in the wet. In the afternoon we were second fastest in semi-damp conditions. I'm glad I tested here because it prepares me better for the next round and I'm happy with the progress that we have made and I have a good idea about set up to carry forward."
The Red Bull Ring, formerly known as the A1 Ring, is situated near the mountainous town of Spielberg where the alpine weather can be volatile and difficult to predict. Heavy rain showers drenched the circuit yesterday morning, which caused a high impact crash involving an LMP3 car from the European Le Mans Series. Raoul did well to keep his car in one piece and gathered crucial data for himself and the team. Go to the link below to view Raoul in action from the cockpit of the RS01 in Austria.
Link to video on Instagram: www.instagram.com/p/BGinEigSE6X
Round 3 of the Renault Sport Trophy takes places at the Red Bull Ring from 15-17 July.
Source: Driver Club Management
Share: