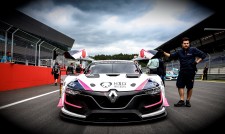 LONDON, U.K., August 23, 2016 (Newswire.com) - ​On the back of the summer break and his 22nd birthday this week, Raoul Owens will be racing in Round 4 of the 2016 Renault Sport Trophy (RS01) this weekend at the picturesque Paul Ricard Circuit on the French Riviera.
Raoul Owens, Driver of R-ace GP [#2]
"I'm really looking forward to this round after a disappointing last race at Red Bull Ring. I have never been to Paul Ricard before but I always enjoy a new challenge! I have been working very hard off track to bring up my personal performance as much as possible and really score some good points for the remainder of the championship. Up until now we haven't scored the positions or points we really would have hoped for so now is our opportunity. Myself and the team will be doing all that is possible to turn around our fortune."
François Gagneux, Race Engineer to Raoul Owens
"The last RS01 meeting held at the Red Bull Ring was really frustrating for Raoul. He set very competitive lap times (P2/P2/P3) during the collective tests despite never using new tyres, but this potential was not converted in qualifying and the races. Raoul's car gradually lost engine performance during the weekend, which was particularly penalising on this track where there are several long uphill sections.
The next race meeting in Le Castellet takes place on the long configuration of the track. It's our first visit to this track with our RS01 cars, but our team has a great amount of experience here thanks to our FR2.0 programme. Our pre-meeting preparation work has been used with this background data. It's a very complex track for the drivers with some very demanding and famous corners (Signes and Le Beausset), but we have no doubt we will manage to turn our luck around and score good results there with all the pace that Raoul has been able to demonstrate during the season so far."
Henry James, Driver Manager to Raoul Owens
"Raoul has been performing at his career best this year, but mechanical gremlins and a couple of unavoidable shunts from rivals have snatched chances of race wins and podiums in the opening 3 rounds of the season. There is certainly added pressure to bounce back strong, but the summer break has been the perfect opportunity for Raoul to recharge his batteries and focus on the next round.
Renault Sport concluded that the engine of Raoul's #2 car had been down on power at Red Bull Ring and possibly previous rounds as well. However, repairs have now been made and we are ready to see Raoul and the team back on the pace at Paul Ricard."
The Paul Ricard Circuit is situated in the Var region of the South of France and is owned by the Formula One mogul, Bernie Ecclestone. Also known as the High Tech Test Track, it is built on a plateau and features a very long main straight and back straight. In preparation for Round 4 of the 2016 Renault Sport Trophy, the 1.8km Mistral straight will be interrupted with the addition of the chicane layout. This configuration provides an additional overtaking opportunity for RS01 competitors and an additional technical challenge for the drivers to overcome in qualifying and the races.
This meeting will be the first time that Raoul races at the French circuit – a venue which attracts great local crowds from nearby towns and cities including Marseille, Toulon and Nice. Expect high-speed action, 30-degree sunshine and a British driver hungry for his first win of the season.
Source: DCM
Share: