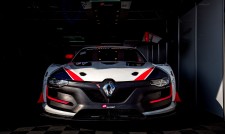 LONDON, U.K., May 10, 2016 (Newswire.com) - In the build-up to Round 2 of the Renault Sport Trophy (RS01) this weekend at Imola, DCM rounds up the thoughts of R-ace GP driver Raoul Owens and his colleagues.
Raoul Owens, Driver of R-ace GP [#2]
"I am really looking forward to this coming race weekend at Imola. We showed strong pace throughout Round 1, both in the race and qualifying, which for me is very encouraging going into this weekend. I believe we have the ability and potential to win this weekend although it won't be an easy task. We are one of the very few teams that have been able to test at Imola which should help us – especially in the early stages of the weekend – and hopefully we can take what we learnt from the test and use it effectively."
"I had some misfortune at Round 1 in the Sprint Race due to unfortunate circumstances so I really want to show my full potential and bounce back with a strong result this time around. We have also gathered good experience in varied weather conditions during our test in March so we will be prepared for whatever comes our way."
François Gagneux, Race Engineer to Raoul Owens
"Raoul has significantly increased his levels of performance and confidence with the RS01 car during pre-season testing and showed great pace at Motorland throughout the weekend, qualifying P4, even if race incidents prevented us from scoring the strong results we deserved."
"Both dry and wet conditions are expected this weekend at Imola. We already made some private tests there in early March, facing different weather conditions, so we have to build on this experience to demonstrate our pace. We have had a briefing at the team factory to prepare for Round 2 at Imola and to review the last round at Motorland. I have big expectations for this weekend."
Henry James, Driver Manager to Raoul Owens
"As the 2016 RS01 calendar is split up by month-long gaps between race weekends, teams and drivers have ample time to analyse the previous round and identify areas of strength and weakness. In Raoul's case, we have observed how to get a good getaway during the rolling start of each race. This will be important for gaining and defending positions."
"Imola is a technically demanding and rewarding circuit where Raoul excelled during his winter tests. Unlike Motorland, the Italian circuit lacks a long straight, but does provide potential overtaking zones in sectors 1 and 3. Raoul qualified well in Spain and this weekend I am hoping to see him on the front row so that he can control the race and go for his first win of the season."
Imola is a town in the Emilia-Romagna region of Italy that is famous for its hillside racetrack called Autodromo Enzo e Dino Ferrari. The heritage and character of the 5km track is personified by the residents of Imola who live in buildings dotted around the outer and inner confines of the circuit. One such resident has installed a homemade grandstand at the bottom of the garden, which overlooks the main straight and pit lane entry. Elevation change is particularly noticeable for drivers through the Piratella and Acque Minerali corners in sector 2, which lead to the tight and tricky Variante Alta chicane – one of the most exciting vantage points for spectators.
This weekend's meeting will be the first time the Renault Sport Trophy goes racing in Imola – stay tuned for some epic racing.
Source: Driver Club Management
Share: