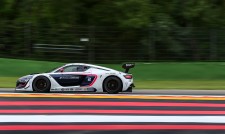 LONDON, U.K., July 11, 2016 (Newswire.com) - British racing talent Raoul Owens will travel to Austria this week for Round 3 of the Renault Sport Trophy (RS01). In anticipation of fierce racing and close lap times, DCM speaks to Raoul and his colleagues ahead of his next challenge at the Red Bull Ring.
Raoul Owens, Driver of R-ace GP [#2]
"This round will mark the half way mark for the RS01 season so this is a great opportunity for me to set a successful tone for the second half of my season. I've had some unlucky incidents so far, but I have shown good pace overall which I'm happy about. Having made significant progress during my two test days at Red Bull Ring in June, I feel confident going into the race weekend.
It is a very technical track so I'm happy to have had the opportunity to get myself up to speed before going into the meeting. An added bonus for me was that there was a great variety of changing conditions over the test so I managed to get as much experience and knowledge of the track as possible to be prepared. I am really looking forward to this upcoming race weekend where the team and myself will be doing all we can to take as many points as possible."
François Gagneux, Race Engineer to Raoul Owens
"Our third race meeting of the season will be run at the Red Bull Ring, which is quite a specific track in terms of driving and car set up. It's a mix of heavy braking in downhill and uphill sections, combined with some very fast corners. The RS01 is very well adapted to this track thanks to its high downforce level. Time gaps are always close between drivers on this track as it's very short, so it's all the more important to optimise our complete package in order to be competitive.
Raoul has finished fourth on two occasions this season and I hope we will achieve a podium at Red Bull Ring because Raoul clearly has the pace to score them. We completed two private test days at Red Bull Ring last month to prepare for our race meeting. We evaluated many different set up combinations during the two days and we managed to improve our car balance to suit the demands of this track. We also faced heavy rainfall during the second day and Raoul topped the session under these conditions with a great margin over his rivals."
Henry James, Manager of Raoul Owens
"I am particularly excited for the third round of the Renault Sport Trophy because the Red Bull Ring is such a technical and unforgiving circuit that I believe will play into the hand of Raoul's driving style and serious commitment into the corners. The performance of the RS01 car will force the competitors to drive with digital precision in order to be quick and Raoul was amongst the fastest drivers at the previous round in Imola [a similarly technical and undulating circuit].
This weekend, Raoul will be joined by LMP3 driver, Jean-Marc Merlin, who will complete the final leg of Saturday's Endurance Race with Raoul in the #2 R-ace GP car. Raoul is currently positioned third in the Endurance standings and will no doubt be seeking a podium finish with Jean-Marc, as well as a top finish in Sunday's Pro category race."
The Red Bull Ring – currently owned by Dieter Mateschitz and formerly called the A1 Ring – is situated in the Austrian Alpine region of Styria. Host to a gripping 2016 Formula One Grand Prix during the first weekend of July, the Red Bull Ring is the shortest circuit on the 2016 RS01 calendar and arguably one of the European circuits with the most unpredictable meteorology.
At the last round in Imola – a circuit that is 15% longer in length than Red Bull Ring – the Top 10 qualifiers of the RS01 Pro category were split by just +0.578s. Therefore, we expect the pole lap this weekend to be very tight and involve the perfect combination of vehicle set up, strategy and driver performance. As for the racing, the characteristics of the Austrian circuit should allow for good overtaking opportunities, which have been harder to come by so far this season in Spain and Italy.
Watch Raoul Owens behind the wheel of the RS01 car in Imola HERE.
Source: Driver Club Management
Share: